Fitness watches are like tiny watchdogs for your health- except, you keep them on wrist and power through your day like you usually would- while they do all the work. They keep tabs on your pulse, measure your vitals and even monitor your sleep quality; it'd be a crime not to pick one up. The problem is there's so many of them on the market that you might find yourself way over your head trying to pick. That's why we've gathered 9 of the Best Amazon Fitness Trackers out there for you.
Fitbit Charge 4
The Fitbit Charge 4 is a real all rounder, with a built-in GPS so you can check your pace in real time while outdoors and see how your heart rate changes whether you're running, hiking or riding- anytime! Keep your heart in check 24/7 with its resting heart rate tracking and smart software designed to measure calorie burn. You can even listen to your favourite tune with Spotify app controls and make purchased with Fitbit Pay. Not to mention receiving calls and texts. The best part? It's water resistant to 50 meters and the battery lasts up to 7 days and up to 5 hours when using the built-in GPS!
Garmin Vivosmart 4
The Garmin Vivosmart 4 is a sleek, stylish tracker you absolutely need to have if you like looking trim and making statements! It comes with advanced sleep monitoring with REM and can even gauge oxygen saturation levels in your blood while you sleep. It montiors not only your heart rate, but your stress levels- all day, every day and has a relaxation breathing timer when those levels hit their peak. It's got a dedicated activity timer for anything you're doing, whether it's walking, strength training, yoga etc. Not to mention you get notifications for your calls, text messages and more so you can keep on top even with work.
Huawei Band 3 Pro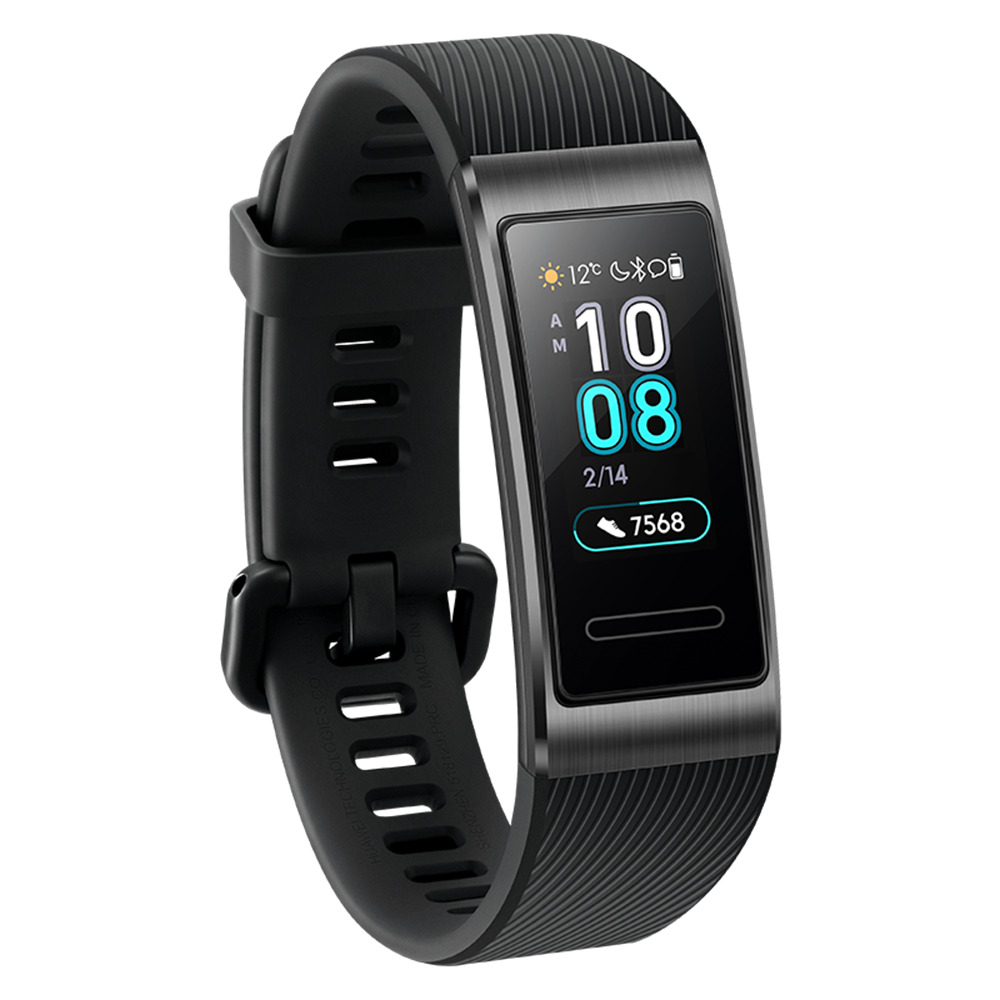 The Huawei Band 3 Pro is one of the more colorful watches on this list and certainly lives up to the Huawei 'Brighter Colors, Smarter Life' slogan! It's got a series of watch faces in different style just to fit your personal flare and a Bluetooth 4.2 Connection. But apart from the techy stuff; The Huawei Band 3 Pro swears by its professional optical devices and AI algorithm to monitor your heart rate accurately and actually lets you know if oyur heart exceeds the heart rate limit. Even while you sleep, the watch continues checking in on your sleep, and the light causes no distractions. Push your limits with its Indoor and Outdoor Pro Tracking as it tracks all of your favorite sports through it's multiple modes from running to open water swimming and more!
Fitbit Inspire HR
The Fitbit Inspire HR takes its 24/7 heart rate technology seriously as it works to accurately accurately track calorie burn, resting heart rate & heart rate zones during workouts and keeps going all day. Everything from steps to hourly activity never escapes it- it can even give you insight on your light and deep sleep stages. For a charge time of 2 hours, you can enjoy up to 5 days of battery for daily progress without charging. Best of all, it's water resistant to 50 meters with a maximum operating altitude of 28,000 feet.
Huawei Honor Band 5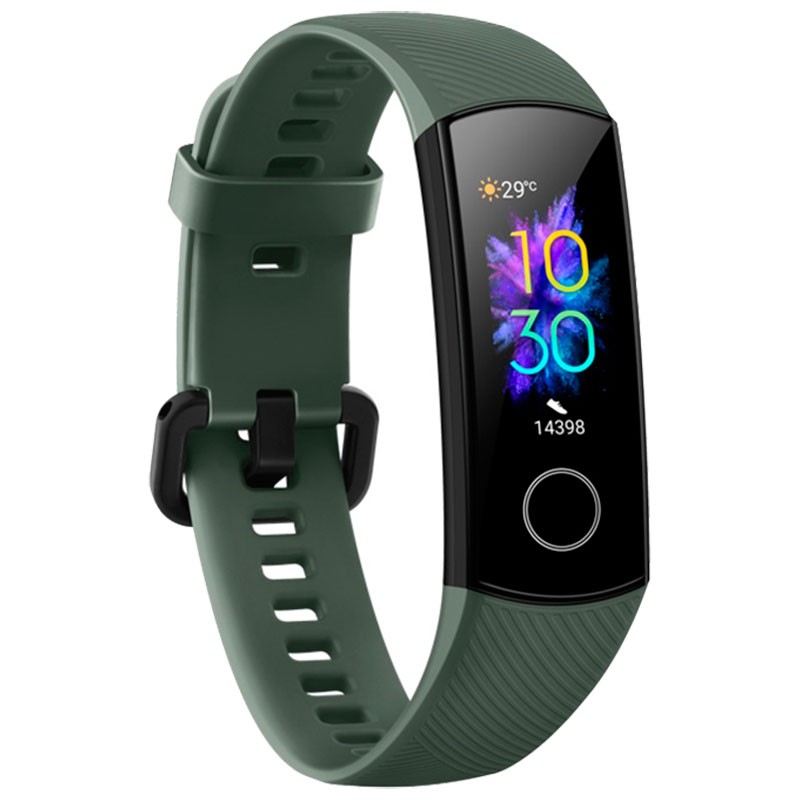 The Huawei Honor Band 5 Fitness Tracker has some of the best SpO2 Blood Oxygen monitor Function around as it automatically detects everything from swim tracking to calories. It's waterproof too so you don't have to worry about washing your hands or getting caught in the rain. You can even analyze your fitness and create your own exercise plan. It's got an intelligent system with incoming calls that you can answer or reject, SMS, timer, email and more that really makes life much easier. It can automatically record wake time, stable sleep and unstable sleep with over 100 tips for sleep improvement and 95% accuracy. It's real-time heart rate monitoring and warnings are truly at the top of its class, with dozens of training optimization algorithms and hundreds of tips for lifestyle and fitness.
Xiaomi Mi Band 4
The Xiaomi Mi Band 4 supports heart rate monitoring and alerts, sleep monitoring and tracks your health data to maintain a healthier body. It comes with six workout modes from treadmill to swimming and counts your steps, distance and burned calories every step of the way! It's also water-resistant like others on this list, so if you're thinking of getting this one, you can definitely wear it freely.
Amazfit Bip
With a lithium polymer battery, you can use Amazfit Bip up to 30 days on a single 2.5-hour charge. It's lightweight and thin, so you don't have to worry about your personal helper being all bulky and in the way when you should be enjoying life to the fullest. The built-in GPS and Optical heart rate monitoring allows you to track your steps taken, distance traveled, quality of sleep etc. in real time. Receiving notifications for calls, emails and apps like Facebook, WhatsApp and LinkedIn on the amazing color touch display.

LETSCOM Smart Watch Fitness Tracker
The LETSCOM Smart Watch Fitness Tracker has a large and stylish display with four customizable displays and color touch screen features. Its interface makes it super easy to see the date and time, your steps travelled and calories burned and even message notifications while you workout. It monitors your real-time heart rate daily, tracking your sleep quality status to get a better understanding of your health. The all-day fitness tracking ensures you can see your fitness targets to easily control your rhythm of exercise and make your workouts really count. It has music control, timer functionality, sedentary alerts and even incoming call notifications with accepting and rejecting functions.
Garmin Fenix 6S Pro
The Garmin Fenix 6S Pro comes with a sophisticated design in sunlight-readable display and bezel in diamond-like carbon, titanium etc. coating. Its wrist heart rate and Pulse Ox to support incredible sleep monitoring and altitude acclimation at high elevations. Its PacePro feature helps you adjust your pace no matter the activity you're doing and helps you navigate the outdoors with TOPO maps, ski maps, multiple global navigation satellite systems and much more. Outside of fitness, this watch can make contactless payments, store music and give you smart notifications etc. With a battery life of up to 34 days depending on the mode, this is a must get.