Every parent wants the best for their kids from the perfect highchairs and cribs to the most nutritional and healthy baby food they can get. That's why so many parents are investing in the organic food industry for their little ones. No GMOs, no artificial sweeteners, hydrogenated fat or any of that stuff. But even with these budding advances- there are so many brands to pick and choose from- not to mention the hypoallergenic and gluten-free products. Here are a few choices we've handpicked so you can have an easier time.
Beech-Nut Organic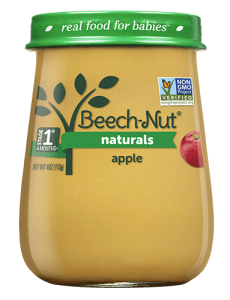 If you're looking for a wide variety in both functionality and flavor, Beech-Nut Organic has all kinds of cereals for rice, oatmeal, and multigrain, hearty mix of wheat, oats in a safely capped canister with an 'easy-pour' spout that you can use as a measuring cup. Jars and pouches come in four stages, included snacks and meals for your babies right up to toddler meals.
Annabel Karmel
Honored as a Member of the Most Excellent Order of the British Empire in 2006, Annabel Karmel is one organic baby food you can consider royalty among others. It comes in high profiled flavours like cottage pie and even Moroccan chicken for your little prince or princess. You can get it in stores or online but one thing's for sure, if the Queen approves, it's definitely worth it.
Once Upon a Farm
Once Upon a Farm carries cold-pressed purees in their pouches- the kind that needs to be kept cold and is full of essential fats and even has coconut milk infused into each pouch. They come in three stages that gradually introduce more textured blends into your baby's diet until they reach toddlerhood. For parents on the more whimsical side, you'll love thier Wild Rumpus Avocado and Farmer Jen and The Giant Squash.
Pure Spoon
Made fresh, never frozen; Pure Spoon organic baby foods brand pasteurizes cold-pressed fruit and vegetable purees. Without the need for chemicals are high heats, you see exactly what your baby is getting in the transparent packaging. From simple foods like peers and carrots, you eventually work up to Pure Spoon's stage two blends with spinach, pear and banana, apples and even broccoli. All of which are delivered directly to your door.
Raised Real Food Delivery
Raised Real baby food is a food delivery service for your baby that has all the food prepped for you. You don't have to even lift a finger with all food being flash-frozen at peak freshness so all that nutritional goodness stays locked in for your baby. Raised Real's mission is to give you a healthier choice besides what you usually get at the supermarket. Each recipe is expertly aimed at integrating fruits, vegetables and micronutrients most beneficial during your baby's pivotal early developmental stages with healthy fats, protein and other superfood ingredients.
Plum Organics
Plum Organics puree baby foods aim to satisfy all your baby's needs with ten different blends and three stages handpicked for your child's development. From sweet potatoes, butternut squash and peaches to the final toddler stage of spices and proteins, there's a little bit of everything dedicated to giving your baby a head start into regular foods. They've also got you covered with teething biscuits and infant formula; all a part of their endless dedication to your baby's wellbeing.
Gerber Organics
Gerber Organics is definitely a household name found in grocery and department stores alike. From cereals like oatmeal to its three stages of jarred and pouched baby purees, Gerber Organics is a name you can trust to offer simple foods from bananas and mangos to fruit blends and other grains to finally, yogurts and new food blends and textures. Get the complete series with their organic fruit juices, freeze-dried yogurt bites and crunchy snack puffs.