Whether it's a birthday or Christmas gift, you can expect to find the most popular dolls or toys on the Amazon marketplace in 2021. With toys for little girls you will find an adorable doll from cute to stylish. Dolls inspire endless creativity and imagination, things that are incredibly critical to your kid's development. It even teaches a tiny bit of responsibility in a way your little ones can easily understand. Dolls can be used as tools to teach valuable life lessons from a young age.
L.O.L. Surprise! O.M.G., Kitty K
At number one is the popstar fashionista Kitty K. Her features are so unique and glamorous. This little diva is well prepared to fascinate you with tons of poses. Heavily inspired by R&B music, your kid can truly live the celebrity life with Kitty K and her little sister, Kitty Queen in tow. With her remixed sound and fierce fashion, chances are she'll inspire a side in your kid you've never seen before. But you'll be glad you did when your little popstar picks up the Grammy award.
Adora Playtime Dolls "Little Prince"
Maybe you want something a little tamer for your kid, but still reasonably unique. Adora Playtime Dolls is practically a household brand by now with a diverse collection of ethnicity and gender. They really go out of their way to give children the dolls they want to see and relate to. Each year they host a contest where young Adora Doll fans send in submissions of their perfect doll, which can be further customized with all sorts of accessories. Perfect for kids as young as one year, you'll find your child's doll to be almost part of the family.
American Girl Joss™ Doll & Book
Another household name, you've got to be familiar with American Girl, which makes an effort to tell the incredible stories of many girls across America through their dolls. Joss is the latest addition to the line, and teaches girls that being disabled in anyway doesn't have to take away from the things you love to do. She uses a hearing aid, but also loves to surf and is a seasoned cheerleader.
Corolle Mon Doudou Babibunny
Perfect for younger kids, Corolle Mon Doudou Babibunny is a snugly baby doll with a night light feature that turns off automatically after 5 minutes. They have a soft vanilla scent and is just the right size for small hands to hold. Pressing its tummy plays up to eight soothing songs and creates a soft light. This makes this baby doll the perfect snugly toy for playtime and nap time.
Baby Alive Step 'N Giggle Baby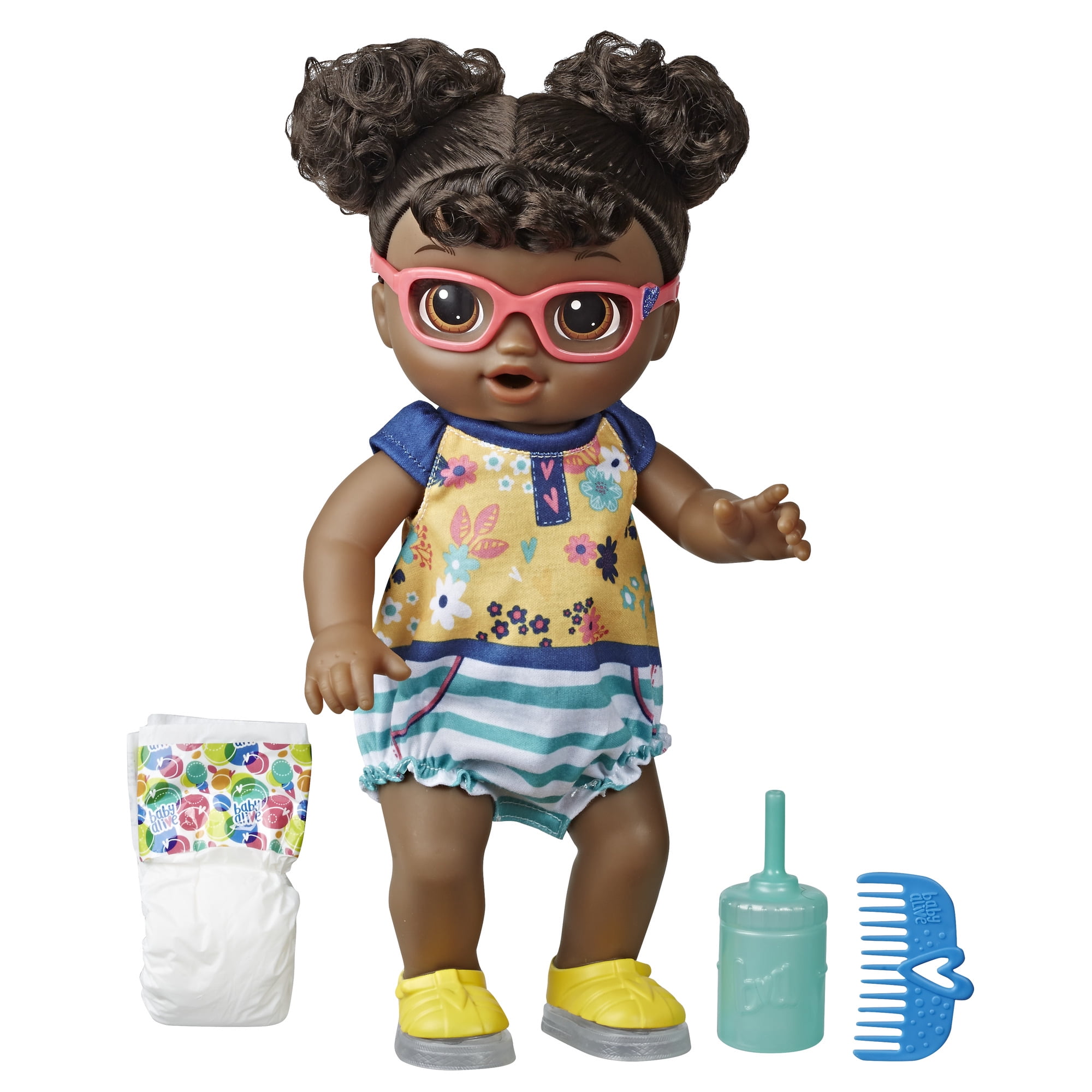 Hasbro's Baby Alive line is beloved because of it's innovative dolls who giggle, move and talk. These dolls in particular are no exception to Step 'N Giggle. A Hasbro's Baby Alive doll eats, drinks, giggles, talks and even dirties her diaper after drinking. You can even lay them down and get a yawn in response. Best of all, the option of addressing your child as "Mommy" or "Daddy." is one you can disable or enable if you'd like!
Baby Alive Baby Shark
Just like Step 'N Giggle, Baby Alive Baby Shark is another innovative doll from Hasbro. Named after the popular "Baby Shark" song, this waterproof baby doll is made for bath time with a cute shark tail and hood. Not only that; it's swimsuit underneath has baby sharks on the front! Get it in pink, blue, or yellow with different skin tones and hair color.
Manhattan Toy Wee Baby Stella
Another must have toy for little girls age one and older, Baby Stella comes in multiple ethnicity and cute adorable hairstyles. But your little girl is more likely to be obsessed with all her fun magnetic accessories, from a plush pacifier to the separately sold magnetic baby bottle. Dressing up Baby Stella is truly endless with dozens of outfits and themed accessories from beach to bathtub, and even a diaper bag, and stroller.
Hatchimals WOW!, Llalacorn
If you loved the HatchiBabies line, you'll love Llalacorn from Hatchimals WOW! Coming in pink and purple, your kids find Llalacorn ready to grow, play and hatch over again. Llalacorn has the largest Hatchimals egg ever and each time she wakes up she's in a different surprise mood. She grows up the 32 inches tall and really comes to life with her emotions and movement. With over 250 reactions and sounds, the fun with Llalacorn is endless.
FurReal Cubby
Last but not least, FurReal Cubby is one of the hottest toys out there, all because it's such an expressive and realistic plushie that dances, plays games and even gives hugs! He's very interactive, even responding to being fed with eating sounds, while also being a toy your kid won't mind falling asleep with for a quick nap because of how cuddly and soft it is.
Let your child's imagination comes alive with these cute must have toys!